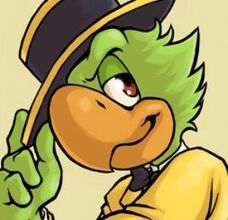 José Carioca (pronounced Joe-zay) is a Disney cartoon character drawn as an anthropomorphized parrot from Rio de Janeiro, Brazil (thus "Carioca", a term which refers to a person born there). José was created in 1943 for the movie Saludos Amigos as a friend of Donald Duck, described by Time as "a dapper Brazilian parrot, who is as superior to Donald Duck as the Duck was to Mickey Mouse". He returned in the 1944 film The Three Caballeros along with Donald and a Mexican rooster named Panchito Pistoles.
Ad blocker interference detected!
Wikia is a free-to-use site that makes money from advertising. We have a modified experience for viewers using ad blockers

Wikia is not accessible if you've made further modifications. Remove the custom ad blocker rule(s) and the page will load as expected.