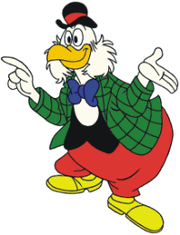 Jubal Pomp (Filo Sganga) is a fat, chicken-faced tycoon whose main ambition is to become as rich as Scrooge McDuck. His attempts at gaining wealth tend to be disastrous. When he tries to compete with Scrooge, he markets eccentric products (firefly-powered mood lights, for instance) that meet with varied success at best. When he tries to convince Scrooge to become partners in some project, the result is Jubal being kicked out of Scrooge's office.
Jubal sometimes helps Brigitta MacBridge try to get back at Scrooge by setting up businesses to rival his. On these occasions Jubal is more successful.
Ad blocker interference detected!
Wikia is a free-to-use site that makes money from advertising. We have a modified experience for viewers using ad blockers

Wikia is not accessible if you've made further modifications. Remove the custom ad blocker rule(s) and the page will load as expected.