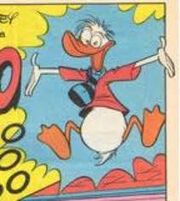 Kildare Coot was introduced by artist Romano Scarpa as a highly eccentric fourth cousin of Donald Duck in the story "Sgrizzo, il papero più balzano del mondo" (roughly translated as "Kildare Coot, the weirdest duck in the world"), first published on October 25, 1964. Though his exact relationship to Donald remains uncertain his last name suggests he belongs to the Coot Kin and that he is related to Donald through Elvira Coot, Donald's paternal grandmother.
Ad blocker interference detected!
Wikia is a free-to-use site that makes money from advertising. We have a modified experience for viewers using ad blockers

Wikia is not accessible if you've made further modifications. Remove the custom ad blocker rule(s) and the page will load as expected.