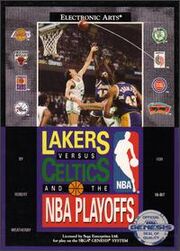 Lakers versus Celtics and the NBA Playoffs was a video game released first in 1989 for MS-DOS-compatible PCs and later adapted for consoles when released in early 1991 for the Sega Mega Drive/Sega Genesis. The game was highly successful; it was the first game endorsed by the NBA and was the first to contain multiple NBA stars and teams in one game. As the title suggested, the game was launched due to the success of the 1980s Celtics–Lakers rivalry. Established stars you can play in the game includeLarry Bird, Kareem Abdul-Jabbar (only on the computer version, not the Genesis version), Magic Johnson, Michael Jordan, and Patrick Ewing.
Ad blocker interference detected!
Wikia is a free-to-use site that makes money from advertising. We have a modified experience for viewers using ad blockers

Wikia is not accessible if you've made further modifications. Remove the custom ad blocker rule(s) and the page will load as expected.