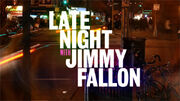 Late Night with Jimmy Fallon is an American late-night talk show hosted by Jimmy Fallon on NBC. The show premiered on March 2, 2009, as the third incarnation of the Late Night franchise originated by David Letterman.
The program airs weeknights at 12:35am Eastern/11:35pm Central in the United States.[2] Former host Conan O'Brien departed on February 20, 2009 to begin preparations for The Tonight Show with Conan O'Brien
Ad blocker interference detected!
Wikia is a free-to-use site that makes money from advertising. We have a modified experience for viewers using ad blockers

Wikia is not accessible if you've made further modifications. Remove the custom ad blocker rule(s) and the page will load as expected.