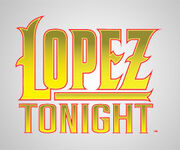 Lopez Tonight is an American late-night television talk show hosted by comedian George Lopez. The hour-long program premiered on November 9, 2009, on cable network TBS. Lopez is the first Mexican American to host a late-night talk show on an English-language network in the United States. The show features audience interaction using a high-energy format. The program airs Monday through Thursday at midnight Eastern and Pacific, immediately following Conan.
Ad blocker interference detected!
Wikia is a free-to-use site that makes money from advertising. We have a modified experience for viewers using ad blockers

Wikia is not accessible if you've made further modifications. Remove the custom ad blocker rule(s) and the page will load as expected.