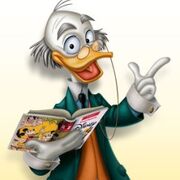 Professor Ludwig von Drake is one of Walt Disney's cartoon and comic book characters. He was first introduced on September 24, 1961, as the presenter (and singer of "The Spectrum Song") in the cartoon An Adventure in Color, part of the first show of Walt Disney's Wonderful World of Color on NBC Said to be an uncle of Donald Duck, he was supposedly named after either Ludwig von Mises or Ludwig van Beethoven. He is described as a scientist, lecturer, psychologist, and road traveler. The character displayed his "expert" knowledge on a variety of subjects in eighteen episodes of the classic anthology series, as well as on a number of Disneyland Records.
Paul Frees was the original voice of Ludwig von Drake. Frees retired from the role before his death in 1986, and Walker Edmisto
Ad blocker interference detected!
Wikia is a free-to-use site that makes money from advertising. We have a modified experience for viewers using ad blockers

Wikia is not accessible if you've made further modifications. Remove the custom ad blocker rule(s) and the page will load as expected.