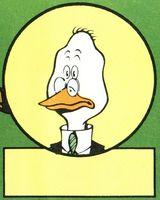 Luke the Goose is the father of Gus Goose.
He was originally supposed to be Gladstone Gander's father, Daphne Duck's husband and Gus's uncle, but Carl Barks later changed his mind about that matter, makingGoosetave Gander (who was originally Gladstone's adoptive father after Luke and Daphne "overate at a free-lunch picnic") Gladstone's biological father and Daphne's husband. Luke the Goose disappeared from the tree.
When Don Rosa created his Duck Family Tree, he used Luke Goose (removing the "the" in his name) and made him the husband of Fanny Coot and Gus Goose's father.
Ad blocker interference detected!
Wikia is a free-to-use site that makes money from advertising. We have a modified experience for viewers using ad blockers

Wikia is not accessible if you've made further modifications. Remove the custom ad blocker rule(s) and the page will load as expected.