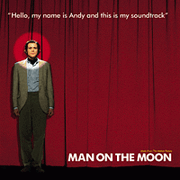 The soundtrack to the 1999 Miloš Forman film, Man on the Moon, was released on November 22, 1999 in the UK and November 23, 1999 in the US. It was issued on Warner Bros. Records, in conjunction with Jersey Records, a part of Danny DeVito's Jersey Group. Incidentally, in some countries, the film was released by Warner Bros. Pictures (the parent of WBR).
Ad blocker interference detected!
Wikia is a free-to-use site that makes money from advertising. We have a modified experience for viewers using ad blockers

Wikia is not accessible if you've made further modifications. Remove the custom ad blocker rule(s) and the page will load as expected.