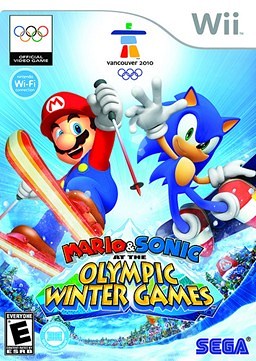 Mario & Sonic at the Olympic Winter Games (マリオ&ソニック AT バンクーバーオリンピックMario to Sonikku atto Bankūbā Orinpikku?, lit. "Mario & Sonic at the Vancouver Olympics")[3] is a 2009 sports video game developed by Sega. It was published byNintendo for Japan and by Sega for North America and Europe. The game is officially licensed by the International Olympic Committee (IOC) through exclusive license International Sports Multimedia. The game is the third official crossover title to feature characters from both Mario and Sonic's respective universes, the first and second being the game's predecessor Mario & Sonic at the Olympic Games and Super Smash Bros. Brawl respectively. It was released on the Wii and the Nintendo DS handheld in October 2009, and is the first official video game of the 2010 Winter Olympic Games.[1]
Mario & Sonic on the Wii and DS is a collection of events based on the Olympic Winter Games. Players can assume the role of a Mario or Sonic character while competing against the others in these events. The game features all of the playable characters that were present in its predecessor, as well as four new characters.[1][4]
A third installment, named Mario & Sonic at the London 2012 Olympic Games, was released for the Wii on November 15 in North America, and it was developed for the Nintendo 3DS. The 3DS counterpart was released in February 2012.[5]
Ad blocker interference detected!
Wikia is a free-to-use site that makes money from advertising. We have a modified experience for viewers using ad blockers

Wikia is not accessible if you've made further modifications. Remove the custom ad blocker rule(s) and the page will load as expected.