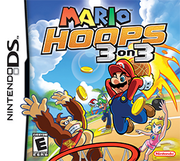 Mario Hoops 3-on-3, known in Europe as Mario Slam Basketball and in Japan as Mario Basketball 3on3 (マリオバスケ 3on3 Mario Basuke 3on3?), is a sports game developed by Square Enix and published by Nintendo for the Nintendo DS in 2006.
This game is the first in which Mario and Final Fantasy characters appear together as playable characters, and the second Mario game developed bySquare, the first one being Super Mario RPG: Legend of the Seven Stars. It is the first Mario basketball game ever to be released.
Ad blocker interference detected!
Wikia is a free-to-use site that makes money from advertising. We have a modified experience for viewers using ad blockers

Wikia is not accessible if you've made further modifications. Remove the custom ad blocker rule(s) and the page will load as expected.