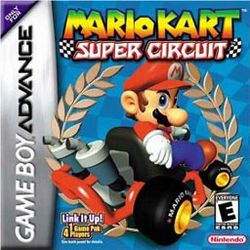 Mario Kart: Super Circuit, known in Japan as Mario Kart Advance (マリオカートアドバンスMario Kāto Adobansu?), is a racing gamedeveloped and published by Nintendo for the Game Boy Advance in 2001. It was the first Mario Kart released on a handheld game system; in 2005, a second handheld Mario Kart game titled Mario Kart DS was released, followed by a third, titled Mario Kart 7, which was released in 2011. It is the first Mario Kart game not to be developed by Nintendo EAD; instead, it was developed by Nintendo's Intelligent Systems division.[1]
Super Circuit combines features from earlier Mario Kart games (Super Mario Kart and Mario Kart 64). In particular, it features the gameplay mechanics of the later title and tracks from the former game. In the game, eight racers take to the tracks and race for first place.
This game was well-received by reviewers after release.
Ad blocker interference detected!
Wikia is a free-to-use site that makes money from advertising. We have a modified experience for viewers using ad blockers

Wikia is not accessible if you've made further modifications. Remove the custom ad blocker rule(s) and the page will load as expected.