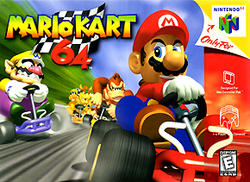 Mario Kart 64 (マリオカート64 Mario Kāto Rokujūyon?) is a racing game developed and published by Nintendo for the Nintendo 64. It is the second installment in the Mario Kart series. It was released in 1996 in Japan and in 1997 in North America and Europe. In January 2007, Mario Kart 64 was released on Nintendo's Virtual Console service for the Wii.[2]
Mario Kart 64 is the sequel to Super Mario Kart for the Super Nintendo Entertainment System. Changes from the original include the move to 3D computer graphics and the inclusion of four-player support. Players take control of characters from the Mario universe, who race around a variety of tracks with items that can either harm opponents or aid the user. The move to three-dimensional graphics allowed for track features not possible with the original game's Mode 7 graphics, such as changes in elevation, bridges, walls, and pits. However, the characters and items remained 2D pre-rendered sprites.
The game was critically well received and was a best seller. Mario Kart 64 was one of the first games in the series to feature Charles Martinet as the voice of both Luigi and Wario.
Ad blocker interference detected!
Wikia is a free-to-use site that makes money from advertising. We have a modified experience for viewers using ad blockers

Wikia is not accessible if you've made further modifications. Remove the custom ad blocker rule(s) and the page will load as expected.