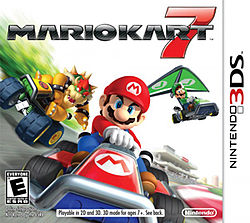 Mario Kart 7 (マリオカート7 Mario Kāto Sebun?)[2] is a 2011 racing video game in the Mario Kart series, developed by Nintendo EADand Retro Studios and published by Nintendo for the Nintendo 3DS handheld game console.[2] The game was released worldwide in early December 2011.[3] Mario Kart 7 is the most recent iteration in the Mario Kart series, following Mario Kart Wii from 2008.
Similar to previous games in the series, players participate in go-kart racing on various Mario-themed tracks, playing as one of seventeen different Mario characters. While racing, the players make use of power-up items that hinder opposing characters. New additions to the game include hang-gliding attachments for karts, the ability to drive underwater, and the ability to fully customize the vehicles' builds.[4] Mario Kart 7 supports both local and online multiplayer for up to eight players.[5]
Mario Kart 7 received positive reception, gaining aggregate critical scores of 85 and 84.96% on MetaCritic and GameRankings respectively.
Ad blocker interference detected!
Wikia is a free-to-use site that makes money from advertising. We have a modified experience for viewers using ad blockers

Wikia is not accessible if you've made further modifications. Remove the custom ad blocker rule(s) and the page will load as expected.