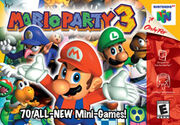 Mario Party 3 (マリオパーティ 3 Mario Pāti Surī?) is the third in a series of board game style video games for Nintendo platforms, featuring popular Nintendo characters. It was released for the Nintendo 64 in North America on May 6, 2001 following a Japanese release on December 7, 2000. It was released in Australia on September 3, 2001 and in Europe as the final PAL-region Nintendo 64 game on November 16, 2001. It is the eighth Mario game for the Nintendo 64. Due to its late release in Europe, PAL copies of Mario Party 3 are uncommon.[citation needed],In Late 2011 & Early 2012,It Will Be On Wii Virtual Console
Mario Party 3 is the third and final Mario Party title for the Nintendo 64. A total of eight characters are available to choose from: Mario, Luigi, Princess Peach, Yoshi, Wario, Donkey Kong, and newcomers Waluigi and Princess Daisy. Mario Party 3 features duel maps, in which two players try to lower each other's stamina to zero using non-playable characters such as Chain Chomps. It is the first Mario Party game to feature Luigi's main voice and also is the last Mario game where Princess Daisy appears in a yellow and white dress, and with long hair, as well as the last Mario game (until New Super Mario Bros. Wii) in which Yoshi's "record-scratching" voice is used. It is also the first Mario Party game to have multiple save slots. Mario Party 3 is followed by Mario Party 4.
Ad blocker interference detected!
Wikia is a free-to-use site that makes money from advertising. We have a modified experience for viewers using ad blockers

Wikia is not accessible if you've made further modifications. Remove the custom ad blocker rule(s) and the page will load as expected.