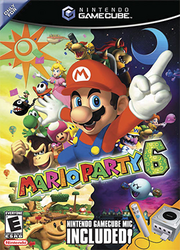 Mario Party 6 (マリオパーティ 6 Mario Pāti Shikkusu?) is the sixth game in the Mario Party series of board game-style video games by Nintendo and is the third title in the series made for Nintendo GameCube and was released in Japan on November 18, 2004; North America on December 6, 2004; in Europe on March 18, 2005; and in Australia on September 15, 2005. It is the first GameCube game to make use of a microphone, which comes packaged with the game. Mario Party 6 is followed by Mario Party Advance
Ad blocker interference detected!
Wikia is a free-to-use site that makes money from advertising. We have a modified experience for viewers using ad blockers

Wikia is not accessible if you've made further modifications. Remove the custom ad blocker rule(s) and the page will load as expected.