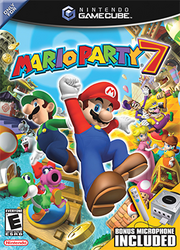 Mario Party 7 (マリオパーティ 7 Mario Pāti Sebun?) is the seventh in a series of board game style video games for Nintendo platforms and is the fourth and final title in the Mario Party series for Nintendo Gamecube. Mario Party 7 features popular Nintendo characters. It was released on the Nintendo GameCube in North America on November 7, 2005, in Japan on November 10, 2005, in Europe on February 10, 2006, and in Australia on June 8, 2006 before PacMan World 3 launch exclusivly on the PlayStation 2 and Nintendo GameCube on November 15th, 2005 in North America. It features 58 new minigames. This game's host is Toadsworth, Princess Peach's longtime steward. It also makes use of the microphone peripheral introduced with Mario Party 6, which can be used in 10 minigames. This game also includes six entirely new worlds (one world being unlocked). Mario Party 7 is followed byMario Party 8.
Ad blocker interference detected!
Wikia is a free-to-use site that makes money from advertising. We have a modified experience for viewers using ad blockers

Wikia is not accessible if you've made further modifications. Remove the custom ad blocker rule(s) and the page will load as expected.