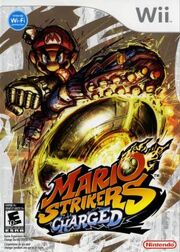 Mario Strikers Charged, known as Mario Strikers Charged Football in PAL regions,[6] is a sports video game developed by Canadiandeveloper Next Level Games and published by Nintendo for the Wii. This game was announced at the 2006 Games Convention in Leipzig,Germany as the sequel to Super Mario Strikers for the Nintendo GameCube. It was released on May 25, 2007 in Europe, June 7, 2007 inAustralia and July 30, 2007 in North America.
The game supports the Nintendo Wi-Fi Connection, through which players can participate in online matches and tournaments. Upon its European release, it became the first Wii online game to be available outside of Japan.
Ad blocker interference detected!
Wikia is a free-to-use site that makes money from advertising. We have a modified experience for viewers using ad blockers

Wikia is not accessible if you've made further modifications. Remove the custom ad blocker rule(s) and the page will load as expected.