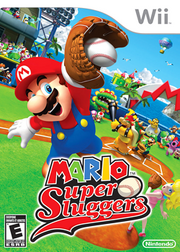 Mario Super Sluggers, known in Japan as Super Mario Stadium Family Baseball (スーパーマリオスタジアム ファミリーベースボール?), is a sports video game for the Wii developed by Namco Bandai and published by Nintendo. It was previously known by the working title Super Mario Stadium Baseball. It is part of the Mario Sports series, and the sequel to Mario Superstar Baseball for the Nintendo GameCube. Mario Super Sluggers was released in Japan on June 19, 2008 and in North America on August 25, 2008. A release date forEurope and Australia is unknown at this time. The game was later released for 19.99 as part of the Nintendo Selects.
Ad blocker interference detected!
Wikia is a free-to-use site that makes money from advertising. We have a modified experience for viewers using ad blockers

Wikia is not accessible if you've made further modifications. Remove the custom ad blocker rule(s) and the page will load as expected.