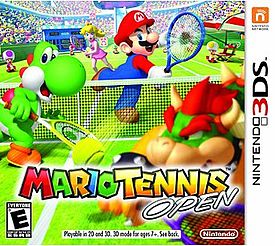 Mario Tennis Open (マリオテニス オープンMario Tenisu Ōpun?) is an upcoming Mario sports game for the Nintendo 3DS. The game was developed by Camelot, which has produced all previous Mario Tennis titles. The game is scheduled for release in all regions in May 2012.
Like earlier Mario Tennis titles, Mario Tennis Open incorporates characters, settings, and scenarios from the Mario franchise. Players can engage in standard tennis matches but also play special variants with different rules and objectives. Seventeen distinct playable characters are available, each with special qualities that are used to the players' advantage. Mario Tennis Openis also the first Mario Tennis game to feature simultaneous online play.
Ad blocker interference detected!
Wikia is a free-to-use site that makes money from advertising. We have a modified experience for viewers using ad blockers

Wikia is not accessible if you've made further modifications. Remove the custom ad blocker rule(s) and the page will load as expected.