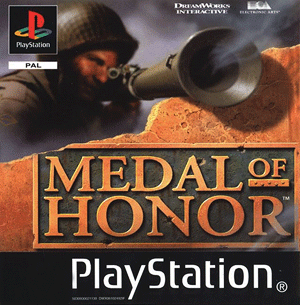 Medal of Honor is the first title in the long-running Medal of Honor series of video games. It was released for the PlayStation in November 1999. The story was created by director/producer Steven Spielberg.

In Medal of Honor, the player takes the role of the fictional Lieutenant Jimmy Patterson, a former C-47 Skytrain pilot in the Air Transport Command who was later recruited to the OSS. The game takes place near the end of World War II, (mid 1944-mid 1945). The goal of the game is to complete objectives, such as destroying enemy positions, and kill enemy German forces in the process.The game also includes a split screen deathmatch mode, pitting two players against each other in various maps. Players can also unlock several secret characters after completing the game or through cheat codes, from notable historical figures such as Filipino patriot Jose Rizal, playwright William Shakespeare and even outlandish characters such as a German Shepherd dog and a velociraptor with a The Lost World: Jurassic Park design.
Ad blocker interference detected!
Wikia is a free-to-use site that makes money from advertising. We have a modified experience for viewers using ad blockers

Wikia is not accessible if you've made further modifications. Remove the custom ad blocker rule(s) and the page will load as expected.