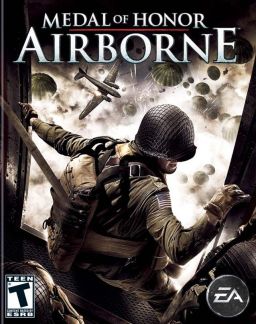 Medal of Honor: Airborne is a World War II first-person shooter computer game and the 11th installment of the Medal of Honor series. It was developed by EA Los Angeles and was released worldwide on the PC and Xbox 360 in September 2007. A PS2 and Wii version was set to be released but was cancelled in 2007.Instead, Medal of Honor: Vanguard was released. A PlayStation 3 version was released November 2007. The game takes place in the European theater of World War II, and is the first in the series to focus only on paratrooper activities.In the single-player mode, the player takes on the role of PFC/CPL Boyd Travers, a fictional paratrooper in the US 82nd Airborne Division. Missions include various insertions into Italy, northern France, the Netherlands and Germany, each one beginning with a jump behind enemy lines. Airborne also features a multiplayer mode available for online play, where users have the choice of fighting for the Allies and parachuting down to the battlefield, or fighting for the Axis and starting on the ground, defending the position from enemy paratroopers.The game uses a massively improved version of Unreal Engine 3.Airborne employs a nonlinear gameplay style whereby the player can start the game anywhere in the map by directing where they land, as opposed to previous linear FPS games where the start point and direction is already laid out, such as Allied Assault.
Ad blocker interference detected!
Wikia is a free-to-use site that makes money from advertising. We have a modified experience for viewers using ad blockers

Wikia is not accessible if you've made further modifications. Remove the custom ad blocker rule(s) and the page will load as expected.