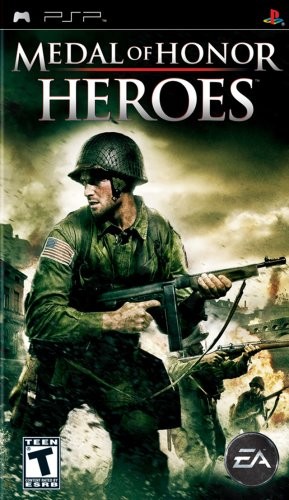 Medal of Honor: Heroes is a World War II first-person shooter video game developed by EA Canada for the PlayStation Portable, and is the ninth installment in the Medal of Honor series. It was released on October 23, 2006 in North America.

The player takes the role of various heroes from the Medal of Honor series. There are three different campaigns, each with its own hero that spearheads squads to complete objectives. These heroes are: Lieutenant Jimmy Patterson, who was the star of the original Medal of Honor and Medal of Honor: Frontline, Sergeant John Baker from Medal of Honor: Allied Assault - Breakthrough, and Lt. William Holt from Medal of Honor: European Assault. The campaigns take place in Italy, Holland, and in Belgium.After the player beats the Battle of the Bulge in Belgium, they are treated to the end cinematic. It shows that Patterson proposed to Manon, but the mission briefer adds that a response has not been reported yet. The ending to Medal of Honor: Rising Sun is also revealed. Joseph Griffin, main character of Rising Sun, was planning POW rescue raids, which means that he rescued his brother.
Ad blocker interference detected!
Wikia is a free-to-use site that makes money from advertising. We have a modified experience for viewers using ad blockers

Wikia is not accessible if you've made further modifications. Remove the custom ad blocker rule(s) and the page will load as expected.