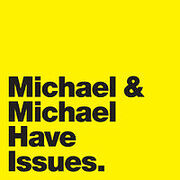 Michael & Michael Have Issues (MMHI) is a cable television comedy series starring comedians and actors Michael Ian Black and Michael Showalter, who created the series. Both comedians appeared together in several TV comedy series, including The State, and Stella. The show premiered on July 15, 2009, on Comedy Central.[1] Showalter and Black confirmed on March 3, 2010 via their Twitter accounts that the show had been canceled.[2][3]
Ad blocker interference detected!
Wikia is a free-to-use site that makes money from advertising. We have a modified experience for viewers using ad blockers

Wikia is not accessible if you've made further modifications. Remove the custom ad blocker rule(s) and the page will load as expected.