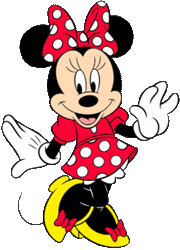 Minerva "Minnie" Mouse is an animated character created by Ub Iwerks and Walt Disney. The comic strip story "The Gleam" (published January 19-May 2, 1942) by Merrill De Maris and Floyd Gottfredson first gave her full name as Minerva Mouse. Minnie has since been a recurring alias for her. Minnie is currently voiced by actress Russi Taylor. Both Minnie and Mickey were first drawn in 1928 by Ub Iwerks.
The comic strip story "Mr. Slicker and the Egg Robbers" (published September 22 – December 26, 1930) introduced her father Marcus Mouse and her mother Margie Mouse, both farmers. The same story featured photographs of her grandparents Marshall Mouse and Matilda Mouse. Her best known relatives, however, remain her uncle Mortimer Mouse and her twin nieces, Millie and Melody Mouse, though most often a single niece, Melody, appears. In many appearances, Minnie is presented as the wife of Mickey Mouse, a close friend of Daisy Duck,[3] Donald Duck's wife, and occasionally a friend to Clarabelle Cow. Minnie's sister, Mandie Mouse was a recurring character early on.
Ad blocker interference detected!
Wikia is a free-to-use site that makes money from advertising. We have a modified experience for viewers using ad blockers

Wikia is not accessible if you've made further modifications. Remove the custom ad blocker rule(s) and the page will load as expected.