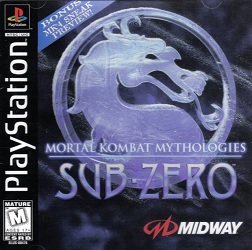 Mortal Kombat Mythologies: Sub-Zero is a 1997 action-adventure game spin-off of the fighting game series Mortal Kombat. It is the first Mortal Kombat game to feature side-scrolling gameplay. It was released for the PlayStation and Nintendo 64. The storyline centers around the original Sub-Zero in an adventure to defeat Quan Chi from retrieving an amulet that would free the fallen Elder God Shinnok. The PlayStation version features live-action cutscenes.
The events of Mythologies is set prior to the tournament in the original Mortal Kombat, exploring the history of the original Sub-Zero and his nemesis Scorpion, while foreshadowing the events of the subsequent fighting game in the series, Mortal Kombat 4.
Ad blocker interference detected!
Wikia is a free-to-use site that makes money from advertising. We have a modified experience for viewers using ad blockers

Wikia is not accessible if you've made further modifications. Remove the custom ad blocker rule(s) and the page will load as expected.