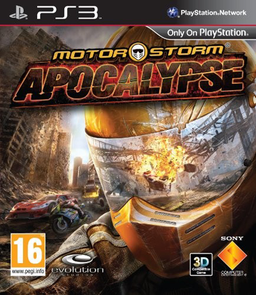 MotorStorm: Apocalypse (MotorStorm 3 in Asia) is a 2011 racing 3D video game by Evolution Studios and published by Sony Computer Entertainment for the PlayStation 3. It is the fourth game in the series and the third for the PlayStation 3. It was announced shortly before the beginning of the Electronic Entertainment Expo 2010 on the PlayStation Blog by Evolution Studios on 10 June 2010.[5]
MotorStorm: Apocalypse was released in Europe on 16 March 2011[1] but the UK release on 18 March was delayed by Sony Computer Entertainment UK following the 2011 Tōhoku earthquake and tsunami in Japan.[6] The Australian launch went ahead as planned on 17 March, but Sony announced further shipments of the game to that country would be halted in the wake of the disaster.[2] The planned North American release date of 12 April 2011[7] was delayed by Sony[8] who later confirmed new releases dates of 31 March 2011 in the UK<ref[3] and 3 May 2011 in North America.[4]
The game's release in Japan was cancelled in June 2011. No reasons were given at the time.
Apocalypse is more story-driven than previous instalments. The events of Apocalypse's MotorStorm Festival are told from the perspective of three participants, labelled Mash "The Rookie", Tyler "The Pro", and Big Dog "The Veteran" by Evolution Studios, with each participant also representing a difficulty level of gameplay.[9] These three participants will each see different parts of the catastrophe unfold over the course of the two day festival.
Ad blocker interference detected!
Wikia is a free-to-use site that makes money from advertising. We have a modified experience for viewers using ad blockers

Wikia is not accessible if you've made further modifications. Remove the custom ad blocker rule(s) and the page will load as expected.