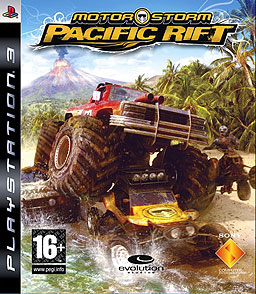 MotorStorm: Pacific Rift (MotorStorm II in Japan) is a racing video game by Evolution Studios and published by Sony Computer Entertainment for the PlayStation 3. It is the sequel to MotorStorm and is followed by MotorStorm: Arctic Edge for the PS2/PSP, and MotorStorm: Apocalypse.[5] It was announced by Sony after their acquisition of Evolution Studios and it was released on 28 October 2008 in North America.[1] The game has sold over one million copies as of 9 December 2008.[6]
MotorStorm: 3D Rift is a 3D mini re-release of Pacific Rift, containing 10 tracks as well as a selection of off-road vehicles fromPacific Rift. It is only single-player and has no trophies. The game was released on the PlayStation Network on 24 August 2010.[7]
Ad blocker interference detected!
Wikia is a free-to-use site that makes money from advertising. We have a modified experience for viewers using ad blockers

Wikia is not accessible if you've made further modifications. Remove the custom ad blocker rule(s) and the page will load as expected.