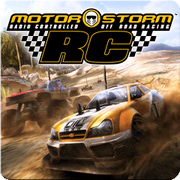 MotorStorm: RC is a 2012 racing video game by Evolution Studios and published by Sony Computer Entertainment for thePlayStation Vita and PlayStation 3 computer entertainment systems.[3] The game is a radio controlled spin-off of the popular MotorStorm franchise, and was only released on the PlayStation Network.
With its remote control car aesthetic the game features 8 styles of vehicles, 4 returning areas from previous MotorStorm games, and has 16 unique tracks built out of them. The game also features split screen multiplayer, and a single purchase for both versions of the game.[3]
Ad blocker interference detected!
Wikia is a free-to-use site that makes money from advertising. We have a modified experience for viewers using ad blockers

Wikia is not accessible if you've made further modifications. Remove the custom ad blocker rule(s) and the page will load as expected.