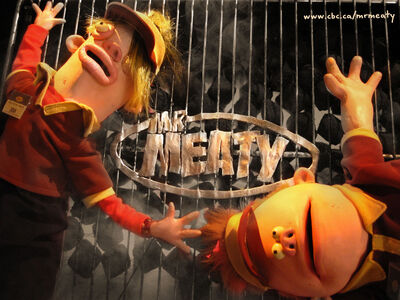 Mr. Meaty is an Canadian television series, airing on CBC Television in Canada and the Nicktoons Network in the United States. It originally began in 2004, as a series of interstitial shorts that aired on Nickelodeon. The show features puppets working at a fast food restaurant called Mr. Meaty (a parody of fast food chains) located inside the Scaunchboro Mall (a name based on the Ontario city of Scarborough). Mr. Meaty is the third Nickelodeon/CBC Television co-production, the first being Little Bear and the second Pelswick. Mr. Meaty has a number of episodes featuring full a 14-minute Director's Cut, Extended Scenes and Deleted Scenes on Turbonick. The TV series received a great deal of criticism from vegetarians and parents who did not like the gross-out humor. Many petitions were signed and sent to Nickelodeon to end the show. This may be a reason for its move to the Nicktoons Network and ultimately its short life. It is also the first show on Nickelodeon to utilize puppetry which many kids probably didn't appreciate as much as regular animation which could have also contributed to its short life.
Ad blocker interference detected!
Wikia is a free-to-use site that makes money from advertising. We have a modified experience for viewers using ad blockers

Wikia is not accessible if you've made further modifications. Remove the custom ad blocker rule(s) and the page will load as expected.