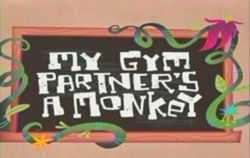 My Gym Partner's a Monkey is an American animated television series created by Timothy and Julie McNally Cahill and produced by Cartoon Network Studios. It premiered on December 26, 2005 and ended in November 27, 2008 following a marathon of its final regular-run episodes. A special aired on January 15, 2010, serving as the series finale.
The story revolves around Adam Lyon, a human. After a clerical error listed his surname as "Lion", Adam is forced to transfer from Chester Arthur Middle School to Charles Darwin Middle School, a school for local zoo animals. Shortly after his transfer, he is partnered with Jake Spidermonkey in gym (hence the title). While Jake enjoys having fun at the expense of others, he quickly becomes attached to Adam. The majority of the show's humor derives from Adam's attempts to reconcile his human limitations, as well as his outsider status, with the demands of an animal-centric school and social scene.
Ad blocker interference detected!
Wikia is a free-to-use site that makes money from advertising. We have a modified experience for viewers using ad blockers

Wikia is not accessible if you've made further modifications. Remove the custom ad blocker rule(s) and the page will load as expected.