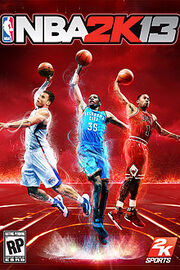 NBA 2K13 is a basketball video game developed by Visual Concepts and published by2K Sports. It was released on October 2, 2012 in North America for the Xbox 360,PlayStation Portable, PlayStation 3, Microsoft Windows and Wii. A version for the Wii U was also released as a launch title in North America, and in December for the PAL region. Kevin Durant of the Oklahoma City Thunder, Blake Griffin of the Los Angeles Clippers and Derrick Rose of the Chicago Bulls are the cover athletes.[1] NBA 2K13 is the successor to NBA 2K12 in the NBA 2K series.
Ad blocker interference detected!
Wikia is a free-to-use site that makes money from advertising. We have a modified experience for viewers using ad blockers

Wikia is not accessible if you've made further modifications. Remove the custom ad blocker rule(s) and the page will load as expected.