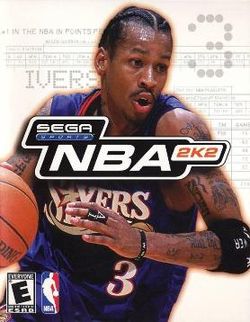 NBA 2K2 is the third installment of the 2K series, it was still developed by Visual Concepts and published by Sega Sports. It was released for the Dreamcast, PlayStation 2, Nintendo GameCube, and the Xbox. It was released on October 24, 2001 on theDreamcast and later ported with PlayStation 2, Nintendo GameCube, and the Xbox in 2002. NBA 2K2 featured more street courts such as Mosswood, Fonde Rec Center, Venice Beach, etc. The game still featured the old street courts like in the previous gameNBA 2K1. It was the first NBA 2K game to be released multi-platform on the series, and also the last to be on the Dreamcast. The cover athlete is Allen Iverson.
Ad blocker interference detected!
Wikia is a free-to-use site that makes money from advertising. We have a modified experience for viewers using ad blockers

Wikia is not accessible if you've made further modifications. Remove the custom ad blocker rule(s) and the page will load as expected.