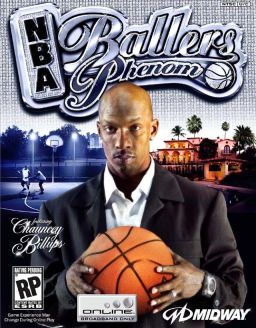 NBA Ballers: Phenom is a video game for the PlayStation 2 and Xbox. It is the sequel to NBA Ballers, which featured Stephon Marbury and Chauncey Billups. In this game, celebrities such as Jin, Ludacris, Trikz, Hot Sauce, and Chingy can be played. The main story is based on the friendship between the player and Hot Sauce. One day, Hot Sauce signs up for a one-man street baller organization and steals the player's girlfriend. The gamer must then get back at him by showing off his streetball skills. The game features four divided sections of Los Angeles: Hollywood, Santa Monica, Beverly Hills and Los Angeles International Airport. An extra disc containing the soundtrack comes with the game. There are 20,000 customization combinations, with options including haircuts, headgear, tops, bottoms, shoes, jewelry, backpacks, knee pads, elbow pads, watches, shoes and glasses.
Ad blocker interference detected!
Wikia is a free-to-use site that makes money from advertising. We have a modified experience for viewers using ad blockers

Wikia is not accessible if you've made further modifications. Remove the custom ad blocker rule(s) and the page will load as expected.