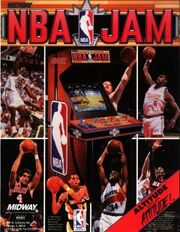 NBA Jam is a basketball arcade game developed by Midway in 1993. It is the first entry in the NBA Jam series, and was written entirely in assembly language.[1] The main designer and programmer for this game was Mark Turmell.[2][3] The release of NBA Jam gave rise to a new genre of sports games which were based around fast, action-packed gameplay and exaggerated realism, a formula which Midway would also later apply to the sports of football (NFL Blitz), and hockey (2 on 2 Open Ice Challenge).
Ad blocker interference detected!
Wikia is a free-to-use site that makes money from advertising. We have a modified experience for viewers using ad blockers

Wikia is not accessible if you've made further modifications. Remove the custom ad blocker rule(s) and the page will load as expected.