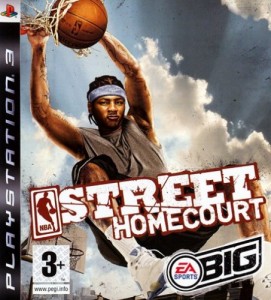 NBA Street Homecourt is the fourth game in the NBA Street series. It was released for the Xbox 360 on February 19, 2007[1] and for the PlayStation 3 on March 6, 2007.
Carmelo Anthony, pictured during his tenure with the Denver Nuggets, (currently playing for the New York Knicks) is featured on the cover.
A demo of the game was released on February 2, 2007 on the Xbox Live Marketplace. NBA Street Homecourt is the first Xbox 360 game be natively rendered in the 1080p resolution.[2] The game features basketball courts that are based on real ones that NBA superstars grew up on and honed their talents.
Ad blocker interference detected!
Wikia is a free-to-use site that makes money from advertising. We have a modified experience for viewers using ad blockers

Wikia is not accessible if you've made further modifications. Remove the custom ad blocker rule(s) and the page will load as expected.