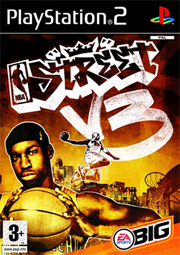 NBA Street V3 is the third game in the NBA Street series. It is the sequel of NBA Street Vol. 2. It was released for PlayStation 2,GameCube and Xbox, along with a PlayStation Portable port of V3 called NBA Street Showdown.
Contributing rappers to the Golden Age of Hip Hop, the Beastie Boys, appear as playable characters.
The GameCube version contains Mario, Luigi, and Princess Peach as playable characters. This was part of a deal Nintendo had with EA Sports to have Nintendo's intellectual properties appear in EA franchises.[1][2]
Ad blocker interference detected!
Wikia is a free-to-use site that makes money from advertising. We have a modified experience for viewers using ad blockers

Wikia is not accessible if you've made further modifications. Remove the custom ad blocker rule(s) and the page will load as expected.