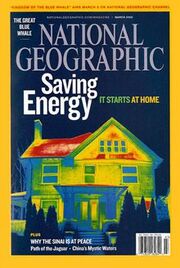 National Geographic, formerly the National Geographic Magazine, is the official journal of the National Geographic Society. It published its first issue in 1888, just nine months after the Society itself was founded. It is immediately identifiable by the characteristic yellow frame that surrounds its front cover.
There are 12 monthly issues of the National Geographic per year, plus additional map supplements. On rare occasions, special editions are issued. It contains articles about geography, popular science, history, culture, current events, and photography.
With a worldwide circulation in thirty-three language editions of nearly nine million, more than fifty million people receive the magazine every month. In May 2007, 2008, and 2010 National Geographic magazine won the American Society of Magazine Editors' General Excellence Award in the over two million circulation category. In 2010, National Geographic Magazine received the top ASME awards for photojournalism and essay.
Ad blocker interference detected!
Wikia is a free-to-use site that makes money from advertising. We have a modified experience for viewers using ad blockers

Wikia is not accessible if you've made further modifications. Remove the custom ad blocker rule(s) and the page will load as expected.