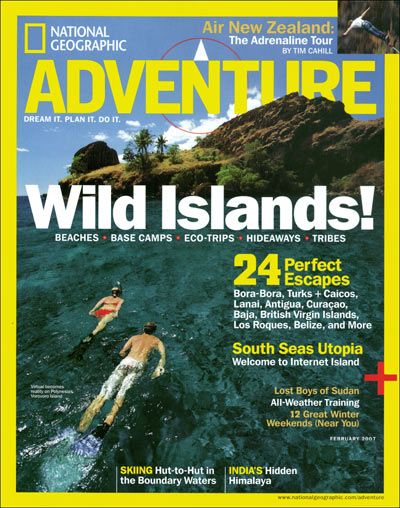 National Geographic Adventure was a magazine started in 1999 by the National Geographic Society in the United States. It focused on Adventure travel and included "Next Weekend" where it featured good weekend trips from all across the U.S.,"First In" where it wrote recent Adventure travel news,"Living It" where Adventure wrote tips, ways to avoid danger, ways to help, etc., "Where Next" where they wrote good vacation destinations across the world, and "Gear" where experts wrote about good gear that will improve your vacation experience.
Regular publication of the magazine ended in 2009, with the name being used for a biannual newsstand publication.
The magazine covered adventure travel, environmental issues, natural science and other topics related to the outdoors. One of the magazine's best known features was its comprehensive annual survey of the Best Adventure Travel Companies on Earth. For 2009, those companies included GAP Adventures, Cox & Kings, and Artisans of Leisure among others.
Ad blocker interference detected!
Wikia is a free-to-use site that makes money from advertising. We have a modified experience for viewers using ad blockers

Wikia is not accessible if you've made further modifications. Remove the custom ad blocker rule(s) and the page will load as expected.