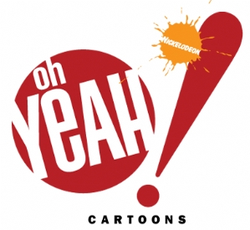 Oh Yeah! Cartoons is an American animation showcase that appeared on the Nickelodeon cable channel. Oh Yeah! was an animation project guided by Fred Seibert, former Creative Director of MTV Networks and President of Hanna-Barbera. Produced by Frederator Studios, it ran as part of Nickelodeon's Nicktoons lineup, and in its second season, was hosted by Kenan Thompson of All That andKenan & Kel fame; Then later by Josh Server, from All That, for its third season. Bill Burnett composed the show's theme music. Oh Yeah! Cartoons was distributed by Nelvana outside of the United States.
In terms of sheer volume, Oh Yeah! Cartoons remains TV's biggest animation development program ever. Giving several dozen filmmakers the opportunity to create nearly 100 seven-minute cartoons, the series eventually gave birth to three dedicated half-hour spin-offs:
Nickelodeon's Oh Yeah! half-hour featured in its first season, a total of 39 brand new seven-minute cartoons in 13 episodes, surpassing the number of new cartoons and characters on any other single network. In its full run, Oh Yeah! Cartoons featured and produced over 99 cartoons and 54 characters.
39 episodes were made, however, MTV Networks International Distribution says 27 episodes were made.
Many of the animated shorts were created by cartoonists who later became more prominent, including Bob Boyle, Thomas R. Fitzgerald, Bill Burnett, Jaime Diaz, Greg Emison, John Eng, John Fountain, Antoine Guilbaud, Butch Hartman, Larry Huber, Steve Marmel, Zac Moncrief, Ken Kessel, Alex Kirwan, Seth MacFarlane, Carlos Ramos, Rob Renzetti, C. Miles Thompson, Byron Vaughns, Pat Ventura,Vincent Waller and David Wasson. Many of the animators featured on Oh Yeah! Cartoons had worked on the What A Cartoon! Showproduced by Hanna-Barbera and Cartoon Network two years earlier. The show was also created by Fred Seibert while he was president ofHanna-Barbera and had the same concept as Oh Yeah! Cartoons. When Seibert left Hanna-Barbera in 1997 and founded Frederator Studios, many of the animators that had worked on What A Cartoon! migrated with him to produce shorts for Oh Yeah! Cartoons.
Ad blocker interference detected!
Wikia is a free-to-use site that makes money from advertising. We have a modified experience for viewers using ad blockers

Wikia is not accessible if you've made further modifications. Remove the custom ad blocker rule(s) and the page will load as expected.