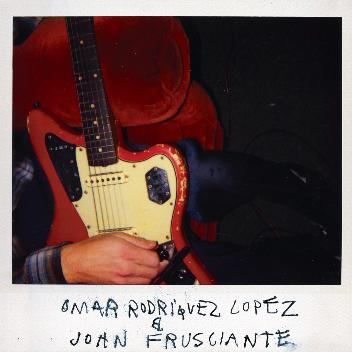 Omar Rodriguez Lopez & John Frusciante is a collaborative studio album by Omar Rodríguez-López, guitarist of The Mars Volta, and the former Red Hot Chili Peppers guitarist, John Frusciante. The record was digitally released on April 30, 2010. It is the twentieth release by Omar, and their second collaboration following 2005's "0=2" vinyl single, which appears on this record along with its b-side, "0". These two tracks have been available digitally since October 3, 2006. This album was a free download with the option to donate for a period of time. All money raised has gone to "Keep Music In Schools".[4] The album can now be downloaded for $3.
In December 2010, the album was released on CD in Japan through Sleepwell Records and enjoyed success, ending up on Amazon Japan's bestseller list as #2 in the Music > Alternative Rock and #22 in Music > Rock section.[5]
As of December 2011, the vinyl edition of this recording is out of print, becoming the first of Omar's releases on Sargent House Records to do so. This recording was limited to 1,000 pressings on black vinyl. The album cover and art is from a picture that Omar took with a Kodak Z1285 of John Frusciante.[6] Also, the guitar featured is one of John's notable instruments - a 1962 Fender Jaguar.[7]
Ad blocker interference detected!
Wikia is a free-to-use site that makes money from advertising. We have a modified experience for viewers using ad blockers

Wikia is not accessible if you've made further modifications. Remove the custom ad blocker rule(s) and the page will load as expected.