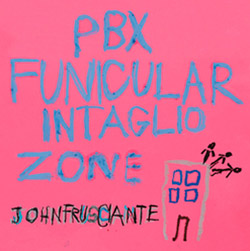 PBX Funicular Intaglio Zone is a forthcoming 9-song LP by John Frusciante, and is his eleventh full-length record as a solo artist, scheduled for release on September 12th, 2012 in Japan, and for international release on September 25th, 2012 on Record Collection. It will be released in multiple formats including 32-bit digital formats and cassette.[1] Recorded in 2011, it features Frusciante singing, playing all the instruments and engineering, as well as one featured artist.[2]
Regarding the album, John wrote to fans, "PBX was conceived as an album, the songs having been recorded in succession. The records are very different from each other, so prior to the release of the LP, I will make available a free download of a song called Walls and Doors. This song pointed the way towards PBX, but was recorded 7 months earlier. I always took it for granted that Walls and Doors would be part of the record, but as it turned out the record was better off without it."
Frusciante spoke about this album and his previous album Letur-Lefr by saying "I consider my music to be Progressive Synth Pop, which says nothing about what it sounds like, but does describe my basic approach. I combine aspects of many styles of music and create my own musical forms by way of electronic instruments. The tracks on Letur-Lefr are from 2010 and PBX was made in 2011. Letur is a compilation, a selected portion of music I made that year while PBX was conceived as an album, the songs having been recorded in succession. The records are very different from each other."
Early info on the Japanese tracklisting shows 2 bonus tracks included, one of which is "Walls and Doors" which is to be made available as a free download leading up to the August pre-order.
When John Frusciante was asked about the meaning of the album name he responded by saying "PBX refers to an internal communication system. There is a natural version of this, wherein the 'business or office' is a person. A funicular involves two trams connected by a cable, one going up while the other goes down. All music perpetually does this on many levels simultaneously. Intagliois a technique in sculpture where one works on the opposite side of the image, whereby the image will eventually appear to the spectator in relief, but the angle the sculptor works from is the negation of that. In music that I like, an approach analogous to this was employed, the more so the better. Zone refers to a state of mind wherein the rest of the world seemingly disappears, and nothing matters but the union of one's immediate surroundings with ones feelings. These four words linked together go far to describing my creative process."
Ad blocker interference detected!
Wikia is a free-to-use site that makes money from advertising. We have a modified experience for viewers using ad blockers

Wikia is not accessible if you've made further modifications. Remove the custom ad blocker rule(s) and the page will load as expected.