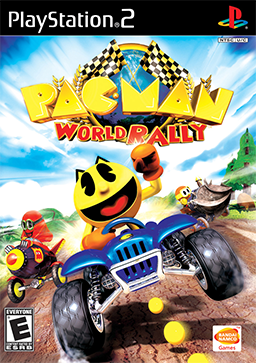 Pac-Man World Rally, (known in Europe as Pac-Man Rally) is a kart racing game in the Pac-Man's series. It is developed byNamco Bandai Games, and released in August 2006 for the PlayStation 2, Nintendo GameCube, PlayStation Portable, andMicrosoft Windows. An Xbox version of the game was canceled, even though there is a preview of it included in Pac-Man World 3.
The game has 15 race tracks and a battle mode similar to other kart racing games. In addition, there are four battle arenas for multiplayer action. You will also be able to collect power-ups to attack opponents or gain an edge in the race, as well as Pac-Man's signature fruit pickups, which in Pac-Man World Rally unlock secret shortcuts. There are 16 characters for the player to choose from.
Critics gave the game mixed to negative reviews. IGN has a score of 5.7 for the Gamecube version. One of the reviewers from GameSpot said that it was a "Mario Kart rip-off".
Ad blocker interference detected!
Wikia is a free-to-use site that makes money from advertising. We have a modified experience for viewers using ad blockers

Wikia is not accessible if you've made further modifications. Remove the custom ad blocker rule(s) and the page will load as expected.