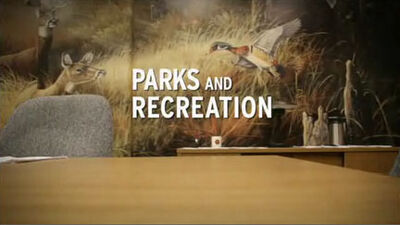 Parks and Recreation is an American comedy television series on NBC that focuses on Leslie Knope (Amy Poehler), a mid-level bureacrat in the parks department of Pawnee, a fictional town in Indiana. Created by Greg Daniels and Michael Schur, the series debuted on April 9, 2009; it has run for three seasons and has been approved for a fourth. Originally conceived as a spin-off to The Office, Daniels and Schur instead created a stand-alone series that shares that show's single-camera, mockumentary filming style.
The writers researched local California politics for the show, and consulted with real-life urban planners and elected officials. The Leslie Knope character underwent minor changes after the first season in response to audience feedback that she seemed unintelligent and "ditzy". The writing staff tried to incorporate current events into their episodes, such as a government shutdown in Pawnee inspired by the real-life global financial crisis.
The Parks and Recreation staff tried to differentiate their show from The Office through subtle differences in their filming, like multiple camera angles during interviews and frequent use of jump cut techniques. Improvisation is encouraged among the cast, and dialogue made up by the actors often make the final cut of the episodes. Several guest stars have appeared on Parks and Recreation, including Megan Mullally, Louis C.K., Will Arnett, Justin Theroux, John Larroquette and Parker Posey.
Parks and Recreation received generally mixed to negative reviews during its first season, with many critics claiming it was too similar to The Office. However, reviews were much more positive in the second and third seasons, with several reviewers declaring it one of the best shows on television. The show has received several awards and nominations, including an Emmy Award nomination for Outstanding Comedy Seriesand two Emmy nominations for Poehler's performance. Despite the recent critical acclaim, Parks and Recreation has struggled in the Nielsen ratings throughout its run on NBC.
Ad blocker interference detected!
Wikia is a free-to-use site that makes money from advertising. We have a modified experience for viewers using ad blockers

Wikia is not accessible if you've made further modifications. Remove the custom ad blocker rule(s) and the page will load as expected.