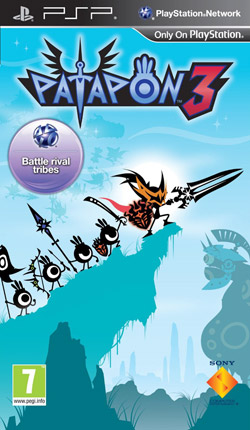 Patapon 3 (パタポン 3?) is a rhythm game for the PlayStation Portable and sequel to Patapon 2. It was developed by Pyramid andJapan Studio and published by Sony Computer Entertainment. The game was first revealed during the Electronic Entertainment Expo 2010 as one of the 70 PlayStation Portable games released "between now and December."[1] The game was released on April 12, 2011 in North America, April 15, 2011 in Europe and on April 28, 2011 in Japan.[2][3][4]
Gameplay is mostly unchanged from previous titles, but there will be a greater focus on multiplayer. A multiplayer demo was released on July 6, 2010,[5] followed by a "100 Hour" demo on January 6, 2011.[6] Patapon 3 is presented in a cartoonish,silhouetted two-dimensional environment designed by Rolito.[7] The game features more realistic backgrounds.[8]
Patapon 3 begins directly where the previous game ended. The Patapons finish the Rainbow Bridge and have crossed the river to a new land, where they find a large mysterious box. When the Patapons opened the box, the Seven Evil Archfiends come out and petrified everyone, except the flag carrier, Hatapon. A new tribe, the Bonedeth, are determined to crush the Patapons. Even the Akumapons are encountered later in the game. However, hope is far from lost, for inside the box was not just the Seven Archfiends, but also Silver Hoshipon, which found the Almighty and offered to help restore some of the Patapons back to life. The first Patapon Hoshipon restored was Hero, fusing him with the Almighty and thus transforming him into the Uberhero (essentially, a stronger version of Hero), augmenting his powers. Together, they found Hatapon and, after using the Pon drum along with Hatapon, the Uberhero learns how to use them. They also restored three other Patapons, forming the Trifecta and took the petrified Meden along with them to their new hideout, where they (and the player) are then introduced to the new shops, barracks, the Herogate, and the rest of the new features. .[9]
Ad blocker interference detected!
Wikia is a free-to-use site that makes money from advertising. We have a modified experience for viewers using ad blockers

Wikia is not accessible if you've made further modifications. Remove the custom ad blocker rule(s) and the page will load as expected.