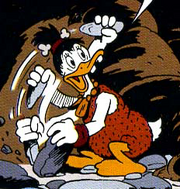 Princess Oona is a character created by Stefan Printz-Påhlson and his wife Unn Printz-Påhlson in 1994. During a trip to the Stone Age in Gyro Gearloose's time machine Gyro andDonald Duck first meet the incredibly strong cave-duck Oona. On the journey back to the future she stows away in the time machine, and has remained in Duckburg ever since.
All of the early Princess Oona stories—and a significant percentage of modern ones—were illustrated by the Chilean artist Victor Arriagades Rios, better known by his artist name Vicar.
After having written the first couple of stories about Princess Oona, Stefan Printz-Påhlson asked the rest of the Egmont crew to do stories with the super cave girl. So far about 25 have been created, teaming Princess Oona with such well-known Disney characters as Scrooge McDuck, Daisy Duck, Gladstone Gander, the Beagle Boys and Huey, Louie and Dewey. Oona claims to be attracted to Donald and she's always trying to get his attention, but in the story "Love and War" by Lars Jensen and Vicar she falls for Gladstone.
Ad blocker interference detected!
Wikia is a free-to-use site that makes money from advertising. We have a modified experience for viewers using ad blockers

Wikia is not accessible if you've made further modifications. Remove the custom ad blocker rule(s) and the page will load as expected.