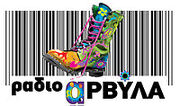 Radio Arvyla (Greek:Ράδιο Αρβύλα) is a Greek live parody show hosted by ANT1 in Thessaloniki. It first aired on April 2008. It is hosted byAntonis Kanakis, Giannis Servetas, Stathis Panagiotopoulos and Christos Kiousis. It mainly shows parodies as well as jokes and videos which are sent by the viewers and shortly before the end there is live music. It airs on weekdays, although some days, most times Thursdays, football matches are shown instead of the show. It airs from 23.00 to 00.00, although it used to air from 18.00 to 19.00 during the 2007-2008,2008-2009 season. It is confirmed that the show will continue broadcasting during the 2010-2011 season.The first episode of season 4 aired on 11 of october. All episodes of the show are available online on the official website of ANT1.
Ad blocker interference detected!
Wikia is a free-to-use site that makes money from advertising. We have a modified experience for viewers using ad blockers

Wikia is not accessible if you've made further modifications. Remove the custom ad blocker rule(s) and the page will load as expected.