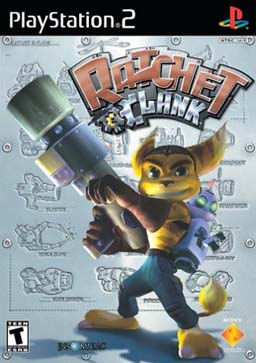 Ratchet & Clank is a 3D platformer/shooter video game for the PlayStation 2, developed by Insomniac Games and published bySony Computer Entertainment. Released in 2002, it is the first game in the Ratchet & Clank series.
The game's plot opens with the anthropomorphic character Ratchet meeting the robot Clank on his home planet. Clank discovers that the villainous Chairman Drek of the Blarg race plans to create a new planet for his species, destroying the galaxy in the process. Clank convinces Ratchet to help him in his quest to gain the help of the famous superhero Captain Qwark, but they soon discover that they must save the galaxy on their own.
The game offers a wide range of weapons and gadgets that the player must use to defeat numerous enemies and solve puzzles on a variety of different planets in the fictional "Solana" galaxy. The game also includes several mini-games, such as racing or lock-picking, which the player must complete to proceed. The game was positively received by critics, praising the good graphics and variety of gameplay along with the sci-fi story. This also has a online mini game called Challenge Clank.
Ad blocker interference detected!
Wikia is a free-to-use site that makes money from advertising. We have a modified experience for viewers using ad blockers

Wikia is not accessible if you've made further modifications. Remove the custom ad blocker rule(s) and the page will load as expected.