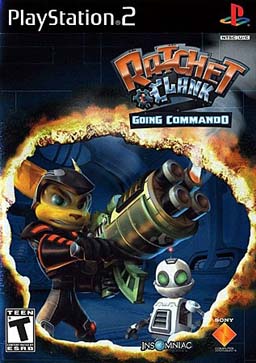 Ratchet & Clank: Going Commando (known as Ratchet & Clank 2: Locked and Loaded in most PAL countries, as Ratchet & Clank 2 in Ireland, Holland, Portugal, Germany and France, as Ratchet & Clank 2: Going Commando in Northern Europe, and asRatchet and Clank 2: Totalmente a Tope in Spanish) is a 3D platformer/shooter developed by Insomniac Games and published bySony. Released for the PlayStation 2 in 2003, it is the second game in the Ratchet & Clank series, following Ratchet & Clank and preceding Ratchet & Clank: Up Your Arsenal.
The game begins with Ratchet and Clank being hired by the company Megacorp to find a small creature that was stolen from the company's labs. Ratchet finds the thief and returns the creature to Megacorp before learning that the creature, called a "protopet", is a dangerous monster which reproduces at amazing speed and that Megacorp is planning to market it to unknowing customers across the Galaxy. The duo must stop the protopet menace and save the galaxy.
The gameplay of Going Commando is similar to that of the original Ratchet & Clank. The player explores planets in the "Bogon" Galaxy and undertakes missions. It contains more mini-games than were present in Rachet & Clank. The game also introduces role-playing game (RPG) elements, such as upgradeable weapons. Going Commando was released roughly a year after its predecessor, and received very positive reviews. Critics noted the game's improved graphics, longer gameplay, and added role-playing elements as being major improvements over the original.
Ad blocker interference detected!
Wikia is a free-to-use site that makes money from advertising. We have a modified experience for viewers using ad blockers

Wikia is not accessible if you've made further modifications. Remove the custom ad blocker rule(s) and the page will load as expected.