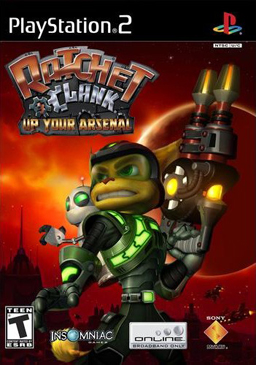 Ratchet & Clank: Up Your Arsenal (known as Ratchet & Clank 3 in Europe and Ratchet & Clank 3: Up Your Arsenal in Australia) is a platform game developed by Insomniac Games and published by Sony. It is the third installment in the Ratchet & Clank series and was released in North America on November 3, 2004. Shortly after it was released in Japan on November 25, the first volume of the Ratchet & Clank manga, drawn by Shinbo Nomura, was released.
The gameplay is similar to previous games in the series but introduces new features such as a refined control system, a larger amount of weapons and a deeper upgrade system. It follows Ratchet and Clank's adventure through a fictional universe to defeat a robotic villain, Dr. Nefarious, who intends to destroy all organic life. Characters such as Dr. Nefarious and Sasha, a Cazar starship captain who helps Ratchet throughout the game, are introduced, and a number of characters return from the original Ratchet & Clank.
Up Your Arsenal is the first in the series to offer online multiplayer as well as single-player. Multiplayer features three different modes of play available on all of the maps and has a selection of the weapons from the single-player game. As well as the multiplayer mode, it offers many other improvements over its predecessors such as higher quality graphics, larger worlds and a larger variety of weapons and gadgets also ships and dune buggies. The voice cast from the previous game return as their respective characters and new actors were hired to voice the new characters.[1][2] The game was met with critical acclaim, earning an average review score of 91% at Metacritic.[3]
The name of the game is a play on the British English word "arse" and the word "arsenal".
Ad blocker interference detected!
Wikia is a free-to-use site that makes money from advertising. We have a modified experience for viewers using ad blockers

Wikia is not accessible if you've made further modifications. Remove the custom ad blocker rule(s) and the page will load as expected.